Children's Birthday Parties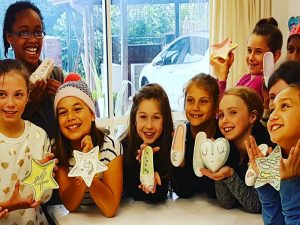 For Something Different That Can Last A Lifetime!
We are ALL FIRED UP  to provide the perfect venue for that special birthday party. The staff will look after the children and assist them to create that something special that they can use and keep forever. Birthday parties are hosted by the staff, so parents can sit back and relax.
The Party Provides :
2 hours of creative fun or 1 & half hours if you don't have food.
Party people can choose from a selection of items including plates, bowls, ornamental mobile phone holders and much more.
The cost is $30 per person and this covers the party time and ceramics as well as the glazing and firing.  This is the all up cost.
Feel FREE TO BRING YOUR OWN PARTY FOOD along at a one off cost of $40.  This covers the time you spend after painting enjoying the food and outdoor area.
Parties cater for a minimum of 8 painters and we have space for big groups.
We have both a STUDIO and PRIVATE PARTY ROOM available on request at no extra cost.
We provide both an INDOOR as well as an OUTDOOR GARDEN  setting for the children to enjoy after they have painted  and we have music for you to enjoy while you paint.
No deposit necessary.
Birthday party invitation available on request.
MOBILE SERVICE AVAILABLE ON REQUEST
Parties for Adults
Brush On Fun For Everyone – For Something Different
That Can Last A Lifetime!
No Artistic Skills Necessary – We Will Show You How!!
Celebrate a Birthday, Reunion, Family Party, Hen Party, Baby Showers, Christmas Party, or Farewell Party.