For extra large groups we will bring the party to you!
We bring the ceramics, paints, brushes design ideas and trained staff to look after you.
Once the ceramics are painted we return them to the Studio to be glazed and fired before returning them within 5 – 7 days. Please contact us for further details on our mobile service.
We are available for parties during the day and evenings by request.
Mobile Service To Corporates/Workplace
We are happy to paint with your company, staff or group and can cater for as many as you would like. We have no limit on the number of people including adults and children that would like to paint.
Great for Christmas parties, team building, birthday parties, celebrate an event or create a special plate for a co-worker or the boss!

Mobile Service To Schools and Other Groups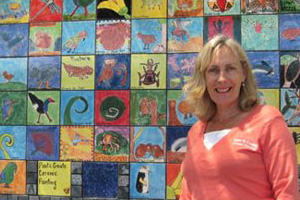 We will come to your school, group, language school or organization. Ceramic painting is an ideal fundraiser or way of celebrating an anniversary, or reunion.
Tile painting is a wonderful way for your child's artwork to be displayed at your school, church or organization. Each child paints a tile with their name on it and their artwork, which is then displayed as a mural either inside or outside a building. It is an ideal way to brighten up that empty wall or tired space. They can be displayed INSIDE or OUTSIDE.  They will not fade and are designed to be enjoyed  forever.
We provide everything needed for this activity and can work with a number of classes at a time.  We supervise the painting and glaze and fire the tiles for you.
Mobile Service To Schools/Holiday Programmes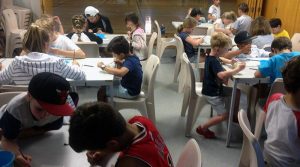 We can bring plates, bowls, mugs, tiles and ceramic ornaments to your group.  It is an ideal activity for schools, guides, scouts, language schools and holiday programmes. We provide a mobile service for extra large groups in the Auckland area.
We will bring everything needed for your group to paint that special plate.  Ceramic painting is an ideal fundraiser or way of celebrating an anniversary, reunion or special occasion.
Father's Day, for example, why not get the students to each paint a mug for their dad or better still get their dad to join them and paint a mug together.  Another idea is for the students to paint a a plate or bowl for themselves, or a gift for Mother's Day or Christmas.